Velera Wilson is a global speaker and author who has spent almost two decades leading marketing strategy and driving millions in revenue for Fortune 500 brands including AT&T and Fiserv. She leverages her insight to challenge and inspire women to own their worth and lead with confidence in their career and personal life.
Recognized as a female leader in Fintech, in 2018 Velera was selected to join Money 20/20's RiseUp global accelerator program for women, served as the program's 2019 U.S. Ambassador, and in 2020 was named part of the Fiserv Leading Women cohort.
Her newly acclaimed book, "You're Absolutely Worth It," takes an honest look at the internal chatter and limiting beliefs that can derail women, giving them practical advice to shift past selfdoubt so they can say yes to themselves.
She's also a contributing writer for Thrive Global and on LinkedIn, sharing relevant content on women's career development.
A big believer in paying it forward, she's served as a mentor to women through the American Marketing Association, National Black MBA Association, and others across the country
She resides in Atlanta with her husband.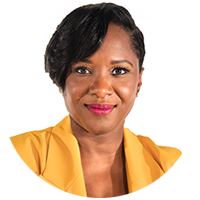 Velera Wilson
Director of Marketing
Fiserv
Global Author & Speaker, You're Absolutely Worth It!