Lucia is the Global Head of Trends, Head of North America, and a founding member of the Trends & Intelligence Advisory team, a Trends Center of Excellence for J.P. Morgan's Payments business. In addition to the mandates of the team, Lucia specializes on the impact of global mega-structural trends and innovation that are transforming the business, treasury and payments landscape.  
She founded a number of innovation initiatives in her role: highlights include FastForward – a global trends virtual series focused on the key themes across the payments and business landscape, a virtual Hackathon series, and the Payment Revolution Forum series which connects companies with experts and peers across industries about challenges and solutions to bring the connected future to life.  
Prior to joining the payments business, Lucia has spent her career at J.P. Morgan focusing on growing businesses, from being a founding member of a new coverage team in Investment Banking to developing the growth strategy for eCommerce in Asia and later, as a product manager to scale a digital neobank to national availability. Prior to J.P. Morgan, Lucia was a management consultant with Deloitte. 
She is active in her work and personal community – she is on the executive committee of J.P. Morgan Payment's own women's initiative, and is actively involved in the Analyst & Associate programs at J.P. Morgan. Lucia is also an avid volunteer in her local community in New York as a translator at local food pantries for underprivileged communities. 
Lucia grew up in Toronto, Canada and holds a BA in International Studies, a BS in Economics from the University of Pennsylvania, and an MBA degree from the Wharton School of the University of Pennsylvania.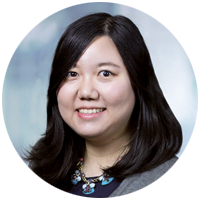 Lucia Li
Global Advisory (Consumer & Retail)
J.P. Morgan