Loreli is currently the Head of Learning, Talent and Diversity & Inclusion for HSBC Bank Canada.  
Loreli is a trusted strategic expert in diversity, inclusion, leadership development and holistic health. For the past 15 years, she advanced the inclusion goals of leading Canadian organizations in the private, public and non-profit sectors at the community, national and global levels – previously holding roles with RBC, Scotiabank and KPMG.  An inspired collaborator, Loreli specializes in inclusive talent management, change management and inclusion communications, the latter based on an established early career in media and public relations. She holds a Masters of Arts degree in Sociology and Equity Studies from the University of Toronto.  
Loreli is an accredited executive coach.  She approaches coaching with her passion for holistic health, and is keen to help people align to their life purpose.  She believes that individuals hold the key to catalyzing their own transformation and that coaching can help facilitate this process of deep inquiry.  Loreli is also one of few practitioners in Canada certified to provide health and lifestyle counseling in Ayurveda – one of the world's oldest medical and healing systems which dates back to India more than 3,000 years. Originally from Winnipeg, Loreli currently resides in Toronto where she also supports the overall health, life and career goals of students and clients alike through her private practice in Yoga and Ayurveda.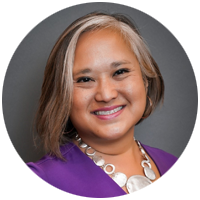 Loreli Buenaventura
Head of Learning, Talent and Diversity & Inclusion
HSBC