Appointed to the role in May of 2016, Lili is the CFO of Amex Bank of Canada and Lead Financial Officer of Consumer Services.
As CFO, she sits across several committees of the Bank and interacts regularly with the Board of Directors as well as Bank Regulators.
She is at the helm of the Finance Leadership Team and is a member of the Canadian Executive Team where she drives the financial oversight and investment decision making
Lili joined American Express in 1997 in Mexico City where she started as a Credit and Collections Analyst. Subsequently she held several roles in Operations (Management Information Systems) and Consumer Services Finance.
In 2004 she moved to the Latin America and Caribbean Headquarters in Miami, joining the LFO organization for Commercial Card for Latin America and Canada.
She moved to Canada in 2008 to lead the Finance teams of Commercial Card and Merchant Services and transitioned to Consumer services in 2010 where she played an instrumental role in key co-brand negotiations
Lili is an active member of the Toronto Chapter of Financial Executives International and Women's Executive Network.
She holds a bachelor's degree in Banking and Finance from Escuela Bancaria y Comercial (Mexico) and resides in Toronto with her husband Mark and her 5-year-old son Mason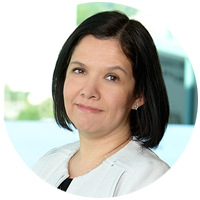 Lili Ibarra
VP LFO & CFO
Amex Bank of Canada