A skilled executive with a passion for partnerships and collaboration, Kerri-Ann Santaguida is the Vice President and General Manager of Merchant Services at American Express Canada. 
 
Kerri-Ann is responsible for leading a high performing team of more than 100+ employees with a focus on providing merchants with access to products, insights and services that help them more effectively manage their payments and drive business success. 
 
A powerful advocate for women in the workplace, Kerri-Ann is the executive sponsor for the Women's Interest Network, an Employee Network for American Express in Canada. She has been instrumental to driving mentorship opportunities for women within the organization, helping make it one of the most diverse and inclusive corporate environments in the country. 
 
Kerri-Ann has been recognized with a series of awards, both inside American Express and outside the organization, for her work within the industry and for her dedication to helping fellow women in business. In 2016, Kerri-Ann was honoured as a Women's Executive Network (WXN) Canada's Most Powerful Women: Top 100 Award Winner. 
 
At American Express, she is a three-time winner of the prestigious Presidents Club Awards for Leadership, and in 2012, and she was inducted into the company's Hall of Fame for her outstanding career achievements.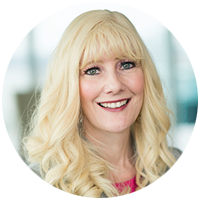 Kerri-Ann Santaguida
VP & GM
Merchant Services Business Canada
American Express