Katie Whalen joined Fiserv (First Data) in October 2017 and manages the North American credit processing business for our issuing partners in Issuer Solutions. She is responsible for identifying and driving growth in the processing P&L, managing product and professional service delivery for existing clients, and defining product strategy for North America and partnering with issuing teams on new common services, such as APIs and Contextual Messaging. In her time at Fiserv, Katie has been instrumental in introducing the new Optis brand and redefining the processing value proposition, modernizing the platform and applications and winning large new mandates, such as Alliance Data Systems (ADS), Atlanticus Holdings and Genesis Financial. 

Prior to joining First Data, Katie held a number of roles within the consumer payments industry – all with a focus on leveraging digital solutions and partnerships to drive new revenue and growth opportunities. She was Head of Strategy for Citi's Global Digital Payments team, where she drove an analysis of the long-term impact of digital payment trends on Citi's consumer bank. Prior to Citi, Katie was at American Express where she held a variety of roles – most notably managing digital partnerships with Amazon, PayPal, Samsung, Microsoft and Apple to drive unique Cardholder payment experiences – and oversaw business strategy and operations for Enterprise Growth's Emerging Payments business, which drove $250MM+ revenue in open and closed loop prepaid accounts, supported by a new, digital servicing experience for Cardholders. Katie had also worked in product strategy and management on the Thomson Reuters mobile team and developed a set of mobile applications in support of its financial data and analytics toolsets. 

Before starting a career in financial services, Katie worked for the City of New York as an Urban Fellow under First Deputy Mayor Patricia Harris in Mayor Michael Bloomberg's Administration and for the Office of Management and Budget, supporting the New York Police Department which represents 6% of the City's ~$90B annual budget. She holds a Bachelor's degree in Government from Cornell University's College of Arts & Sciences, where she focused her studies on executive branch governance at the federal, state and local levels, and a Master's in Business Administration from New York University with a focus on corporate finance.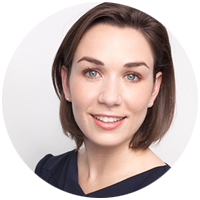 Kathryn Whalen
SVP, North America Credit Processing - Issuer Solutions
Fiserv