Kalyani Bhatia is the Head of Business Innovation for the Americas & UKI Region. She is responsible for supporting regional business product programmes including gpi, ISO20022, transaction management, MyStandards and Instant payments.  
Prior to joining SWIFT in 2020, Kalyani spent 18 years at Deutsche Bank, holding senior positions in technology, product and client implementations & service.  Her expertise lies in running large global change initiatives supporting global transaction banking.  She also has experience in the oil & gas, automotive and retail industries delivering systems as a technical consultant with Price Waterhouse LLP. 
Kalyani holds a degree in Electrical Engineering from Rice University.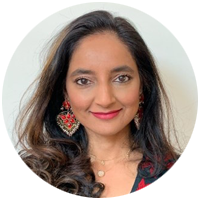 Kalyani Y Bhatia
Head of Business Innovation Americas UK & Ireland
SWIFT