Jehan Assad is a highly accomplished business executive who currently holds the role of Vice President, Strategic Accounts at Finastra, where she manages strategic enterprise accounts globally for this leader in financial services software. Her success in Enterprise Technology Innovation & Sales in the Corporate Banking sector is due to her ability to engage C-suite executives by communicating highly strategic initiatives in areas such as lending, trade and supply chain finance, capital markets, and transaction banking. 
 
Prior to this, since 2011, she held the role of Regional Head of Sales Corporate Banking for Eastern Canada for the Global Payments and Cash Management division of HSBC.  It was Jehan's strategic vision, leadership and exceptional negotiating skills as well as her highly motivational approach that tripled this division's profitability during her tenure. Collaborating internationally with over 80 countries around the world, she has managed highly complex, cross-functional initiatives in a global matrix environment while staying true to the needs of her clients with measurable results. 
 
Jehan's expertise lies in establishing, nurturing and maintaining international relationships with C-Level partners and effectively designing innovative solutions for their global business needs. She has a particular talent for generating and implementing highly profitable and sustainable initiatives. From 2003 to 2010, she was the Client Manager and then Director, Account Development for Amex Bank of Canada where she initiated and developed their first franchise strategy with a major retailer. 
 
Prior to this she was at the Bank of Montreal where she held the role of Commercial Account Manager from 1997 to 2001 and then Account Manager, Private Banker from 2001 to 2003 where she managed a portfolio of over 250 high net-worth individuals and an investment portfolio worth $23M. Transforming her team with a relationship-based sales approach, she built new networks and successfully launched a new full-value proposition for business owners and executives resulting in an extraordinary growth in sales.  She began her career at the Bank of Nova Scotia in 1990 in account management, private banking and operations. 
 
Jehan brings a career's breadth of business knowledge and sales and business development expertise that was forged within the financial services industry. Her strong leadership skills, business savvy and her innate ability to identify win-win strategies has established her as a leader in her field. She is regularly called upon as a presenter, keynote and public speaker, facilitator, and expert in the corporate financial industry. 
 
She holds a Bachelor of Arts in Economics from McGill University, a Master of Business Administration from Concordia University and was the recipient of the James McGill Award for outstanding academic achievement.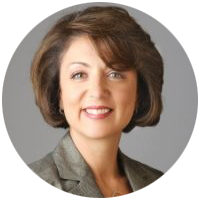 Jehan Assad
Vice President Strategic Accounts
Finastra