Ellie Zolghadr is a product director at Mastercard, focused on digital solutions. 
Ellie has a creative mind and a technology enthusiast. She believes that technology advancement and innovations allow population to lead more efficient lives and spend their time contributing back to advancement of technology and innovation. This is how societies advance civilization to its new level.  
We have come a long way in creating a standard-based, cohesive and secure form of payment in the physical world, but we have a lot of work to do in the digital space to offer similar experiences there.  
In her free time, Ellie enjoys reading, listening to podcasts (Masters of Scale anyone?) and teaches product management at a digital school!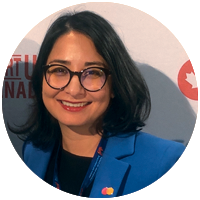 Ellie Zolghadr
Director of Product, Digital Solutions
Mastercard