Ayeesha is currently the Chief Transformation Officer of Global Transaction Services at Bank of America. She and her team are responsible for assessing how the future of work will strategically impact its clients, and as a result, transaction services, in a post-pandemic environment. This includes evaluating the effect of trends that have been particularly in focus for businesses and their customers around the globe, such as accelerated digitization and automation, real-time payments and servicing, sustainability and continuity, and geographically-affected workforces, to ensure that the organization continues to innovate and provide both leading and relevant capabilities to its clients.
Prior to this, Ayeesha was the Head of the Cross-Product Innovation team within Global Transaction Services at Bank of America, conceptualizing and developing innovative solutions for the bank's corporate clients (annual revenue of $5MM and above). This included partnering with fintech and other firms to incorporate emerging technologies such as artificial intelligence, blockchain, virtual accounts, and new types of payment acceptance into new client experiences. She was also responsible for creating a proprietary sandbox environment for wholesale clients, instituting diversity and inclusion requirements for fintech partners, and developing the artificial intelligence strategy for all of Global Banking and Markets at the bank.
Before this, Ayeesha was a Senior Vice President in the Enterprise Payments group at Bank of America. In this role, she developed and executed the bank's payments and fintech strategy, focusing on retail customers. During her tenure, she worked on a several strategic projects, including the enablement of Zelle, merchant services, and overseeing the development of a new real-time payments rail.
Ayeesha also spent over six years in Investor Relations, managing the bank's relationships with equity investors, fixed income investors, and the rating agencies and assisting senior management in conveying Bank of America's outlook story to the Street through the aftermath of the financial crisis. Ayeesha started her career at Merrill Lynch in the firm's Chief Financial Office, where she participated in many capital raises and other strategic transactions for the firm, including the largest secondary equity issuance in US history at that time. Other professional experience includes positions at UBS, CIBC, and the Bank of Canada.
Ayeesha earned her Bachelor of Science in Economics with concentrations in Finance and Management from the Wharton School at the University of Pennsylvania, where she received the Beverly Kushinsky Virany Memorial Award.
Ayeesha was a finalist for the 2020 Women in Payments USA Innovation Award. She also holds two patents from the United States Patent and Trademark Office. At Bank of America, she serves as Co-Chair of the Disabilities Action Network in New York, and previously served on the Board of LEAD for Women in New York, both employee networks that focus on furthering the bank's diversity and inclusion priorities, something that has been a focus for her since serving as President of Wharton Women.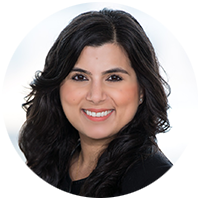 Ayeesha Sachedina
Director and Chief Transformation Officer Global Transaction Services
Bank of America