Anzhelika Zinger is a delivery-focused, passionate senior leader with experience leading large complex technology programs and portfolios.  
Currently, she heads up Infrastructure and Cloud Delivery team at FIS Global where Anzhelika and her team assesses business requirements, architecture and builds solutions to meet clients needs. She loves to help clients define problems, set the vision, and work towards accomplishing the common objectives.  
Anzhelika believes that people are at the core of value creation, and her focus is to build teams that are both fulfilled and, as a result, effective in their roles.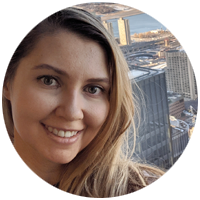 Anzhelika Zinger
VP, Infrastructure and Cloud Delivery
FIS