Alison James leads CIBC's Enterprise Payments team.  She has spent the last 10 years at CIBC in Technology roles, most recently as SVP, Technology Operations.  In addition, she has worked in Application Development covering Cards, Pega, Fraud & Collections, as well as other Infrastructure roles. Alison joined CIBC in 2010 from Canadian Tire, where she was an Executive in Technology, and also held business roles in Retail Strategy, New Business Development and the Petroleum division.       
Alison has spent significant time volunteering at CIBC with the One for Change campaign and the Women's Network.  She is the executive sponsor of the Technology Student program and in 2019, was recognized as one of Canada's top 50 Women in FinTech by Digital Finance Institute. 
She holds an MBA from the Richard Ivey School of Business at the University of Western Ontario and lives in Toronto with her husband and son.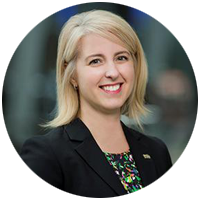 Alison James
Senior Vice President, Enterprise Payments,
CIBC & President, INTRIA